Founded in July 1956 by Ron Versace milling timber logs at Wavell Heights, Versace Timbers is today a family owned and operated timber supplier located in Virginia (Currently at Shed 2B/605 Zillmere Road, Aspley), Queensland.
Managing Director, Graham Leddy, after graduating from the University of Queensland with a Bachelor of Commerce, working in a truss and frame plant at Geebung and spending 3 years in Darwin working for a corporate bookmaker, joined the company then run by his father Peter in 1998. After spending 7 years learning the business prior to Peter's retirement, Graham took over the day to day running of the business with the assistance of his 3 brothers who look after the production plant, accounts and the Virginia operations. Versace Timbers has a staff of 55 and operates out of approximately 6,000 square metres at Virginia to where they moved 12 years ago.
Versace provide an outstandingly high level of service to their customers who include renovators, general builders, new home builders, resort builders, etc and deal only in high quality sustainable timber supplied by Hyne Timber who has been a supplier for over 20 years plus Tilling Timber, Simmonds Lumber, Carter Holt Harvey and ITI Queensland. In 2012 they were recognised by their peers and judged "Best Building Materials Centre Metro" at the Queensland Timber Awards.
In addition to selling timber products, the company also has a rapidly growing frame & truss plant which allows customers to buy all their timber related requirements from a single source.
Frames and trusses are easy to erect and Versace has the added advantage of being a MiTek fabricator. This technology enables the company to manufacture roof trusses and wall frames efficiently and accurately while maintaining high standards of quality and service.
Versace also offers their customers decking, timber cladding and flooring along with Weathertex, fibre cement products from the James Hardie and BGC Fibre Cement range and composite decking choices such as Modwood.
Versace has a team of active sales representatives and regularly advertises to create awareness.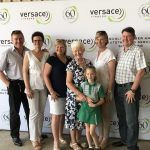 The Sawmill Was Owned by the Whiston Family
The exact start time is unknown, but Peter did know they were sawmilling during World War II and some manufacturing of timber boxes. I believe the Daughter-In-Law, Michelle Whiston, still lives in the original house next to the old Versace Timbers sawmill at Main Avenue, Wavell Heights.
Pre 1956
The Versace Family Purchase
Ron and Rhonda Versace buy the business from the Whiston Family and Versace Timbers is born.
1956
The Leddy Family Purchase
Peter & Kerry Leddy buy the business from Ron Versace.
1983
Truss Manufacturing Group Formed
Peter Leddy, John Gill of Gill & Co Timber and Bryce Wakefield of Caboolture Timbers formed T.M. (Truss Manufacturing) Group Pty Ltd to manufacture pre-nailed timber wall frames and timber roof trusses for the three companies. In 2008 the Peter and John decided to close down the business.
1995
Production Line Beginnings
Peter Leddy set-up Versace Timbers first roof truss production line in a small shed at Toombul Road, Northgate to cater for the truss jobs such as carports and small renovations. Peter was Versace Timbers first Estimator / Detailer and we had one other employee to help assemble these truss jobs. This continued until February 2005.
August 2003
Divide and Conquer
Peter Leddy begins the process to sub-divide the Main Avenue, Wavell Heights property
2004
Renovations Begin
The tenants move out of Vauxhall Street and the renovation begins to convert a Tile Wholesaling Operation into a Timber Merchant and Manufacturing Operation.
February 2005
Stand Out Colours
The building at Vauxhall Street, Virginia gets painted YELLOW.
May 2005
Manufacturing Begins
Timber Sales & Truss Manufacturing begins at Vauxhall Street, Virginia
July 2005
New Product Lines
Pre-nailed Wall Frame Manufacturing begins at Vauxhall Street, Virginia
January 2008
Revamped Brand
Our new logo and corporate colours are agreed on
December 2008
New Digs New Fitout
More renovations occur at Vauxhall Street, Virginia with a new locker room, boardroom and offices built and the hardware store and outside of the building painted in the new corporate colours
April 2009
Hitting the Asphalt
Versace Timbers purchases it's first Hino flat top truck and sign writes it with the new corporate branding, as well as the other six utes in the fleet
June 2011
Giving Back
Versace Timbers holds its first Charity Golf Day raising $3,000 for "Swim4Kids" and "Ride to Conquer Cancer". The following year and ever since all monies raised on the day have been donated to Prostate Cancer. Through the generous support of our Customers, Suppliers and Staff, at the beginning of 2020 we have raised over $86,000 via the Charity Golf Days, Goodwill Bridge Swings, Raffles, BBQs and Fundraisers.
July 2011
Time to Split (in a Good Way)
Versace Timbers is split into two, with the production facility moving to Strathwyn Street, Brendale.
March 2016
Second Facility Operations Commenced
Tim Mander MP, State Member for Everton, officially opens the Strathwyn Street, Brendale facility. Rhonda Versace and Family attend the opening.
November 2016
Awards.... Aww Shucks
Versace Timbers is awarded an Australia Day Award for its charity work in the community and is presented the award by Wayne Swan MP, Federal Member for Lilley
January 2018
Giving Back for Being Blessed
Versace Timbers were awarded the 2019 QCF (Queensland Community Foundation) Philanthropist of the Year Award in the Small to Medium sized Enterprise Category
June 2019
Accredited QLD Timber Merchant
The Accredited Queensland Timber Merchant Network (AQTMN) is a group of Queensland owned and operated businesses with the aim of growing Queensland's forest and timber industry.
Members of the Network have agreed to stock and sell Queensland produced timber at a fair price and have contributed to the "Buy Queensland Timber" campaign featuring Industry Ambassador Ben Dark.
Since 2012, Versace has been holding a "Charity Golf Day" with over 100 players representing clients, staff and suppliers participating. To date they have managed to raise a touch under $88,000 in support of prostate cancer. Graham whose hobbies include family activities and golf is a Director and Vice Chairman of TABMA Queensland, following in the footsteps of his father Peter who was one of the founding directors back in 2001. Graham places great emphasis on training his employees and they are regularly sponsored for courses on management, warehousing, merchandising and frame and truss design. In 2010 Versace Timbers received "Best Training Culture" at the Queensland Timber Awards and hosted the "Trainee of the Year" in 2012 and 2018. In 2016, Versace purchased a second site at Brendale to cater for the growing demand for its products and sees future growth as vital to the success of the company. Versace Timbers is indeed a Queensland success story.
Timber is a renewable resource and a natural product. It takes far less non-renewable energy to produce timber than other building materials such as steel or aluminium.
Construction timber, depending on the end use, can actually help reduce green house gas emissions by storing carbon for many years. The natural beauty and strength of timber allows for diverse applications in both commercial and domestic projects.
Australia's forest management, be it native or plantation, is second to none.
Australia's native forests cover some 46 million hectares and of this only 25 per cent is available for harvesting. Of that 25 per cent, just 1 per cent is harvested annually. Coupled with reforestation initiatives and carefully planned harvesting advice (considering biodiversity, wilderness, old growth and surrounding flora and fauna), the Australian timber industry can ensure long-term sustainable timber production and on-going employment.
For further information on sustainability issues and sustainable plantation forest management in Queensland visit Forestry Plantations Queensland.
Visit Versace Timbers at our timber yard for all your timber and building needs. We have pre-stocked speciality timbers for any project and cater to orders of all sizes. Get in touch or call (07) 3266 9000 to speak to our friendly team to place an order for your next project today.