Want to bring the outside inside? Extend and transform your home with your very own pergola or outdoor deck with our amazing range of quality decking timber available Brisbane wide. Living in Queensland we are fortunate to have amazing weather all year round and enjoying a weekend BBQ with friends and family on your timber deck is the perfect way to take in Queensland's warm and sunny weather.  
Whether you want to build a small deck to accentuate your landscaping or want to extend your home with a wraparound deck – with so many new products on the market to choose from, you can craft the deck of your dreams and complement your interior décor with flattering furnishings on the outside. Try out some ancillary materials that can tie your look together and give an elegant, trendy, or funky façade. 
Ready to get started? Try our free decking calculator to estimate how much decking you'll need for your outdoor entertainment area and browse our range of decking timber below. Don't hesitate to get in touch with our friendly and knowledgeable team today if need some professional tips and advice for crafting the perfect deck. With over 60 years as Brisbane timber suppliers, we've continued to help turn outdoor dreams into reality across the South East. Call us to place an order or visit our timber yard in Virginia today.

Versace Timbers' extensive range ensures any projects needing Timber decking Brisbane wide will be finished to perfection. From Merbau to spotted gum, we can provide the best timber for your next deck or patio project
Plan ahead with our decking calulator. Always remember to include the right amount of wastage.
Our Timber Decking Brisbane Range
Providing leading decking timber supplies Brisbane wide, Versace timbers is your one-stop-shop for all of your timber decking needs. We stock a range of random length pack hardwood and treated softwood timber decking that is suitable for every decking application. Whether you are updating your Queenslander or installing a raised pool deck learn more about our decking timber Brisbane range below.  
Our Merbau timber decking is available in three sizes to suit every deck aesthetic. Utilised by builders and homeowners Australia wide, Merbau is dependable, durable, and versatile. 
90 x 19 Merbau/Kwila Smooth PR
140 x 19 Merbau/Kwila Smooth PR
190 x 19 Merbau/Kwila Smooth PR
Our Hardwood Decking Brisbane Range
One of Australia's premium native hardwoods, Spotted Gum is naturally durable and strong. With a back-sawn grain structure, vibrant colour tones and attractive markings, it is highly prized and utilised across a range of exterior and interior applications industry-wide.
Available as
86 x 19 Spotted Gum S&B
135 x 19 Spotted Gum S&B PR
Are a speciality blend of premium red hardwoods that range in colour from pale to dark reddish-brown through to chocolate browns. Our Royal Reds decking timber supplies Brisbane stock is the perfect solution for where the highest durability and comfort are required.
Available as
86 x 19 Royal Reds S&B PR
Ideal for decking and construction because of its strength and durability. Also known for its resistance to bushfires. Natural colouring is golden yellow to pale brown.
Available as
86 x 19 S&B
130 x 19 S&B
Our H3 pressure-treated pine decking is versatile and lightweight making it perfect for DIY installation. One of the most affordable options on the market it's perfect for large decks and is suitable to stain or paint to the colour of your choosing.
90 x 22 Pine Reeded H3 PR
Can't Find What You're Looking For?
Going for a specific look or after a specialty wood? Get in touch with the leading timber decking suppliers from Versace Timbers today. With industry-wide contacts, we'll do our best to source exactly what you're looking for.

Decking Timber Supplies Brisbane Information Guide
Standard Grade – Middle of the range board that allows for more natural features such as knots which can enhance the beauty of the timber.
Select Grade – Highest quality timber boards that are obtained by selecting boards with minimal natural features and are chosen to showcase the timber's grain and colour. 
S&B – Standard, and Better – Is a mix between standard grade boards and select boards.
PR – Pencil Round – Our timber decking Brisbane stock that is rounded on all four edges. 
H3 – A preservative hazard treatment grade that offers protection against weather elements and timber attack by decay fungi and insects. H3 is the minimum grade recommended for softwoods that are exposed to the weather and periodic wetting.  
Reeded – Reeded or ribbed decking has grooves on one side which allow moisture to run off helping to prevent mould growth and rot. We recommend that the reeds on decking timber always face downwards for longer-lasting decks.
Smooth – Decking that is smooth on both sides rather than having a reeded side. 
LM – Lineal Meter – The unit of measurement that is used by decking timber suppliers Brisbane wide to measure timber length, not width. 
Spacing – The amount of space between your decking timber boards. For best results, we recommend a spacing of between 2-5mm.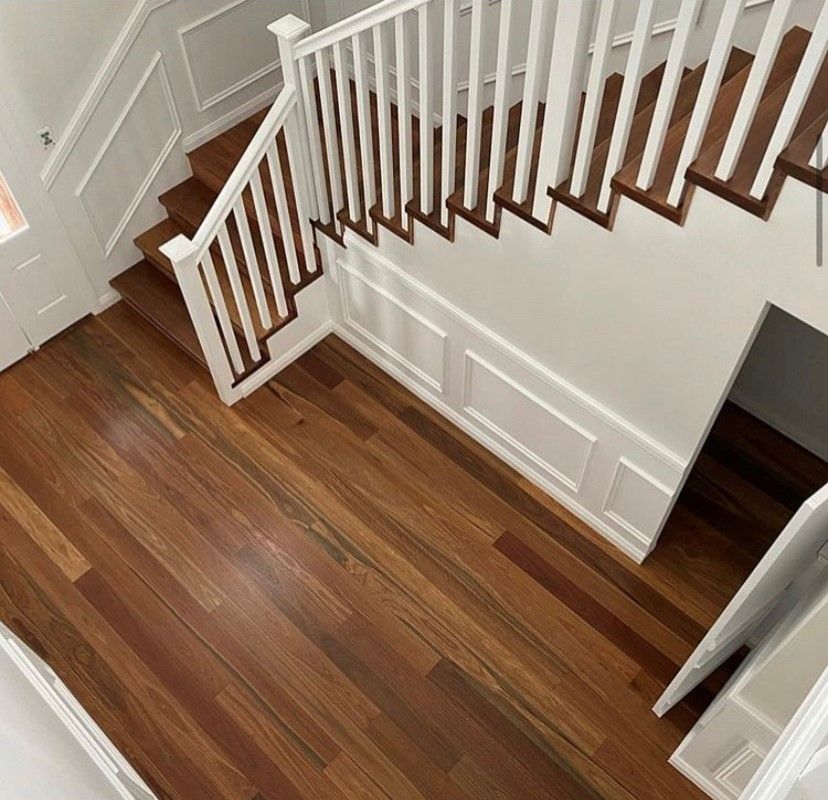 Frequently Asked Questions
"Decking timber" is broad term referring to, in general terms, to all the kind of timber used in the construction of outdoor patios and timber decks. Decking timber can come from a variety of hard and soft woods depending on the requirements of a deck building project.
What kind of decking timber is the best for your deck building project will depend greatly on the requirements of the project itself. To list a few alternatives – Merbau timber is a dependable, durable and versatile choice. If you are looking for premium or native hardwoods, Australian Spotted Gum may be a good option. Royal Reds are a specialty premium blend of red hardwoods. For heavier projects, Balau is a good dense hardwood to consider. Find out more about the different types of decking timber on this page. If you are not sure what kind of decking timber is best for you, give our decking suppliers Brisbane experts a call on (07) 3266 9000, e-mail [email protected], get in touch online or visit us in person at 33 Vauxhall St, Virginia QLD 4014.
You can use our handy timber decking calculator to get an idea of your needs. If you are looking for a specific length, as leading decking timber suppliers we are certain our timber yard has exactly what you need. Visit us in person at 33 Vauxhall St, Virginia QLD 4014.
Visit Versace Timbers at our timber yard for all your timber and building needs. We have pre-stocked speciality timbers for any project and cater to orders of all sizes. Get in touch or call (07) 3266 9000 to speak to our friendly team to place an order for your next project today.